Solomont Polymers N.V.
heads for the future...
Since established in 1993, Solomont have been concentrating on international trading and distribution activity, primarily focusing on West Europe and Africa.
Due to its professionalism to comply with customer's satisfaction under any market circumstance, Solomont has grown to become a global trader with core values of integrity.
In 1998, Solomont's annual turnover is in excess of 35 million US dollars, but more importantly Solomont made a few specific moves towards 1999, and beyond, to the year 2000.
An inspiring long-term plan was introduced, which will direct the entire structure of the company and will focus its activities on the clear target fields.
From our European base in Belgium, we co-ordinate business in a diverse range of commodities including chemical products and agricultural products via our global networks of trading.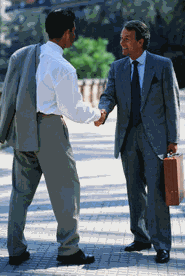 Solomont is a global player with a global presence
As a trading entity with involvement in distribution and trading, we understand the trials, tribulations and perspective of the manufacturer's position, both as suppliers and customers
As a professional trading company,
Solomont engages not only in trading services
but also in project deals, financing and investment
in our interesting fields of the world.